Donte Green is another strong candidate to be selected by the Golden State Warriors at #14 in the 2008 NBA Draft. With the likely departures of Pietrus and Barnes, depth at SF/PF will be an area of need for the Warriors. Green is one of a handful of versitile small forwards in this year's draft along with Anthony Randolph, Nicolas Batum, Chase Budinger, Danillo Galinari, and Joe Alexander. All can play multiple positions, make plays for others, and are offensive threats. Greene is perhaps the best 3 point shooter, ranks in the middle in rebounding, and has great size for his skillset. He lacks aggressiveness at times and does not use his size advantage to work the low post.
If Mullin decides to go Green, there's a chance that Green could get more playing time than Wright did because Nelson loves offensively gifted big men, there is a lack of depth at SF/PF, and Nelson may have learned from last year's gassed finish to trust the bench more and let the chips fall where they may.
2007-2008 Statistics
From NBADraft.net:
http://www.nbadraft.net/admincp/profiles/dontegreene.html
Birthday: 2/21/1988
NBA Postion: Small Forward
Class: Freshman
Ht: 6-10
Wt: 226
College Team: Syracuse
Hometown: Baltimore, MD
High School: Towson Catholic

NBA Comparison: Rashard Lewis/Marvin Williams

Strengths: A long and versatile player that possesses tremendous perimeter skills … An athletic specimen with enormous potential … Deadly out of the triple threat, where he utilizes jabs and pump fakes to attack the opposition … A shot maker with the ability to convert on a variety of acrobatic and off-balance shots … His skill, athleticism and size make him a difficult match up … His leaping ability and body control allow him to finish over and around people in the lane … He possesses a terrific spin move … Also shows great form and range on his shot … Shows a nice pull up off the dribble … He's willing to mix it up in the post where his repertoire is growing, has a nice right mini-hook and a very effective fade away … Has a good feel for the ball, combined with his length make him a dangerous shot blocker as well as a disruptor in the passing lanes … Attacks the offensive glass aggressively …

Weaknesses: Far too often settles for fade away 3 point shots instead of trying to create a better shot. This was especially true late in the season which could have been a product of fatigue ... Shot nearly twice as many 3 pointers as free throws, which shouldn't be the case considering his size and athleticism advantage over most opponents ... Needs to get stronger and bulk up, shows an excellent frame, but still needs to add strength … Struggles finishing after getting hit … Shies away from contact which is reflected by his measly 3.8 free throw attempts per game ... Dribbles with his head down and is somewhat uncomfortable handling the ball in transition, also struggles dribbling against more aggressive defenders that put pressure on him ... Although his form is very nice, his shot is somewhat inconsistent and he settles for too many 3's (over half of his FG attempts come from behind the arc)... Has a tendency to coast and defer to less skilled teammates … Needs to play with more of an edge and develop a killer instinct; he should be dominating the college game with his versatility … Defense is a bit of a concern because he has minimal experience playing man to man, and seems to be very lazy about his stance and anticipation ... His length and athleticism should help to make up for his less than ideal lateral speed and quickness … Still a very young and raw player with a lot to work with, that needs to learn the nuances of the game …
Borko Popic - 3/31/2008

Strengths: Greene is an especially long and talented wing who can score in bunches. When he's on, he hits long three pointers casually and seems to have the confidence of a legend. He has the offensive ability to take over games and calls for the ball on the court when he's feeling it. He has the ability to handle the ball, and take it to the basket aggressively and with a quick first and second step. He draws fouls well. He can pass and plays tough defense when he wants to. He can defend the power forward position, can block shots and is an excellent rebounder with the ability to dominate the glass. Donte plays very relaxed, and loves to make big loud plays on both offense and defense. He shows an interest in being a vocal leader on the court. Greene was a man among boys at the 2006 Nike Camp where he made everyone else on the court look completely out of place for stretches of certain games.

Weaknesses: He tends to over focus on his offense sometimes, creating situations where his teammates bring the ball up the court and look to him to score instead of playing as a team. In these situations is where he shows his great scoring ability, but he has a tendency to force shots and make poor decisions. He needs to add weight to his frame, as he is pretty skinny. He may be forced to play power forward in college, but even though he has some power forward skills his overall skill set is more suited to the 3, especially on offense.
Joshua Motenko - 7/29/2006
From DraftExpress:
http://www.draftexpress.com/profile/Donte-Greene-1066/
March 7, 2008
While many of the elite members of this terrific freshman class have taken their game and their teams to an entirely new level as the regular season comes to a close, one of its most talented players—Donte Greene—has not shared the same fortune.

Greene is still the same super-scoring oversized wing player oozing with NBA potential—standing 6-10 or possibly even 6-11, with a terrific frame, smooth athleticism, and uncommon mobility and coordination for a player his size. He seems to have hit a bit of a wall late in the season, though, after averaging over 35 minutes per game for 30 games now, as his team has been crippled by injuries and has basically nothing to turn to off the bench, and the fatigue now seems to be catching up. Syracuse looks to be outside the bubble at the moment, and will likely miss the NCAA tournament unless they string together a few wins in the Big East tournament.

Greene has become more and more of a spot-up shooter as the year progresses, attempting over 50% of his shots from behind the arc on the season, but seeing his accuracy drop to a miserable 28.7% in 17 Big East conference games thus far (32.9% total). At his size, Greene can get his shot off virtually whenever he pleases, which is precisely part of the problem, since he's shown very little self-restraint. His 7.3 3-point attempts per game ranks him 3rd amongst all players on our 08 or 09 mock drafts.

What's ironic is that he actually has one of the prettier shots you'll find in this draft, blessed with picture perfect mechanics, a high release point, and a very quick release. The problem is that his shot-selection has been poor, as he's fallen into some of the same selfishness that has plagued his entire team (particularly Paul Harris) in Big East play. Greene has been taking too many rushed, off-balance, contested shots as of late, not fully setting his feet, contorting his body unnecessarily, and thus not getting the kind of accuracy he enjoyed earlier in the season. Regardless of whether his shot has been falling, he's continued to take them (he attempted sixteen 3-pointers in a single game a few weeks back), and thus has shot his team out of a few games.

As the year moves on, the scouting report has gotten out to a certain extent about how best to neutralize his potent scoring—further aided of course by the injuries and lack of depth Syracuse suffers from. Teams are forcing him more and more to his off-hand (his left), which he's not particularly comfortable operating with at the moment. He's struggling to beat players off the dribble, and has thus failed to emerge as the shot-creator Syracuse needs in their half-court offense. Not being incredibly explosive finishing around the rim, and possibly lacking some toughness at times going through contact, he's had his problems finishing his drives in traffic, and isn't getting to the free throw line at a particularly high rate. To his credit, he's responded by showing a better post game than we had seen earlier in the year, hitting some beautiful jump-hooks and turn-around jump-shots, even if it hasn't been on a consistent enough basis.

Defensively, it's never easy to evaluate Syracuse players because of how heavily they rely on their zone defense. There might be some question marks about how he'd be able to defend NBA small forwards, though, considering that he at times struggles to stay in front of players attacking him off the dribble, getting stuck flatfooted on the perimeter. He does have excellent size, length and a good frame, and seems to be a fairly smart player, so he should be able to become at least decent in this area down the road if he's willing to commit himself. He picks up a solid number of blocks and steals already within Syracuse's zone.

We're definitely holding Greene to a high standard here, especially considering that he's just a freshman, as he obviously has the potential to emerge as one of the most talented players in the NCAA. Considering his size, tools, and scoring instincts at the small forward position, it's hard to see him not getting drafted somewhere in the lottery, even despite his struggles this season, as he has more upside than any small forward in this draft. From what we understand, it's still somewhat up in the air whether he enters the draft this year or not, although it seems like if he gets word that he'll be taken in the lottery, he will probably leave. He's the type of player that will look phenomenal in private workouts, and thus could see his stock bounce right back into the top 10 fairly quickly. He won't be rolling into the NBA on the red carpet (with the huge endorsement deals and marketing hype that goes along with that) though—he'd need another year in college to achieve that most likely.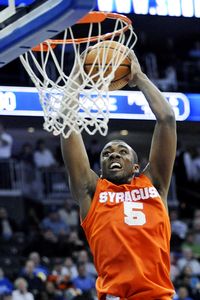 From ESPN:
Draft Projection: Lottery to mid first round

Similarities: Marvin Williams

Notes: Greene has declared for the 2008 NBA draft, but hasn't hired an agent, thus preserving his college eligibility.

Averaged 18.4 points, 6.8 rebounds, 3.0 assists, 2.1 steals and 4.3 blocks
as a senior in 2006-07, helping Towson to a 32-6 record and to its second consecutive Maryland Interscholastic Athletic Association A Conference and Baltimore Catholic League titles.

Positives: A long, athletic jump shooter who can play both the 3 and 4. Excellent midrange game. Has improved his 3-point shooting -- though it's still streaky. Has the ability to put the ball on the floor and take his man to the basket. Explosive leaper. Has turned into a leader on his team. Solid rebounder.

Negatives: Needs to add strength. A bit of a tweener right now. Poor decision making and shot selection. Doesn't always look like he knows what he's doing out there.

Summary: Versatile forward got off to a hot start for Syracuse. He cooled a bit in the second half of the season, but scouts are still high on his long-term prospects. While he still needs to refine his game, there's no questioning that he's one of the best talents in the draft. A potential late lottery to mid first-round pick.
Donte Green Mix
by Hoopmixtape
Donte Green
by Rivalsnetwork
Donte Green

by budandthemanchild