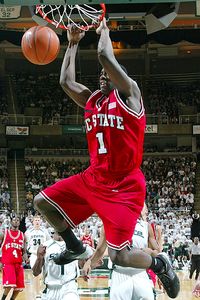 Warriors' biggest need is a big body in the middle that is mobile enough to run with the team. Right now,
Biedrins
and Wright are too thin to handle the Boozers,
Duncans
, and future stud PF/C's of the league. We need a guy that could slow them down as well as become a scoring threat in the paint. J.J.
Hickson
is an extremely strong rising star in the college ranks. Only a freshman, he's proven to be able to handle post duties and has the potential to be a dominant
rebounder
and good shot blocking presence. There is still a lot of room for growth, but he appears to be on his way to being a very good pro player. If he keeps his name in the draft, the Warriors could address a big need and secure a complimentary big man to play with our existing roster.
Statistics
http://sports.espn.go.com/ncb/player/profile?playerId=36375
from

nbadraft

.net
http://www.nbadraft.net/admincp/profiles/jjhickson.html
Birthday: 9/4/1988
NBA

Postion

: Power Forward
Class: Freshman
Ht: 6-9
Wt: 242
College Team: NC State
Hometown: Atlanta, GA
High School: Wheeler

NBA Comparison: Chris Wilcox
Strengths: Powerful, athletic forward with intriguing upside … Has a great combination of agility and "strength potential", appears as thought he'll be able to add another 20 pounds to his frame without losing much if any mobility … Already has good strength with powerful legs and a solid upper body … Has a very strong base with thick legs that make him tough to push around … With his long wing span and strength/athleticism he has the potential to become a dominant

rebounder

… Bouncy four-man who runs the court well, and finishes well above the rim … Shows solid fundamentals shooting mid range jump shots … Has soft hands and good touch … Has above average ball handling ability and likes to face the basket and take opponents off the dribble … Weaknesses: Needs to develop his offensive post moves … Must learn better footwork inside on both ends of the floor … At times he appears to have mental lapses … Needs to gain better focus for entire ball games … Must learn how to use his great strength without drawing fouls. Improved footwork and concentration on fundamentals will help him. Not falling for ball fakes … Can dominate opponents with sheer athleticism, but that won't be the case in the

ACC

next year, must gain better skill level … Has a tendency to wander away from the basket for mid range jumpers, but is more effective using his strength inside … His heavy legs give him great strength inside, but limit his lateral foot speed and may eventually slow him down some in transition …


Aran

Smith - 12/8/2006
from

DraftExpress

:

NCAA Weekly Performers, 3/6/08-- Part

TwoMarch

7, 2008After an extremely hot start to his college career (
profiled below
),
J.J.

Hickson
and N.C. State cooled off substantially as the season moved on, losing their last seven games in the

ACC

(a massive disappointment considering the preseason expectations), while getting "just" 12.5 points on 50% shooting from their star freshman in conference games. Teams have figured out how to defend

Hickson

more effectively as the scouting reports have gotten out, as he's not the most polished or versatile player you'll find around. The majority of

Hickson

's game revolves around his ability to play with his back to the basket, despite standing just 6-8 or 6-9. Over 50% of his offense comes on post moves (the rest mostly on cuts to the basket and offensive rebounds), and he's mostly limited to setting up on the left block and utilizing the 2-3 moves he is extremely effective at, while not showing any real skills facing the basket or finishing with his left hand.

Hickson

has limited range on his jump-shot (out to about 12 feet or so) and does not appear comfortable at all putting the ball on the floor from the high post, looking out of control and committing offensive fouls when forced to do so. This limits his effectiveness in N.C. State's half-court sets, as if he's not lowering his shoulder and going to work with his back to the basket, there really

isn

't a whole lot more he can offer at this point. The things he does do well, though,

Hickson

is extremely talented at—as evidenced by the terrific 59% he shoots from the field. He's a very reliable presence cutting to the rim or running the floor in transition, thanks to his superb length, hands, strength, toughness, aggressiveness, and the way he finishes around the rim. He likes to dunk everything he gets his hands on, being extremely quick getting off his feet, and having no problem going right through contact—drawing a good amount of fouls in the process.

Hickson

has a great feel for scoring in the post, showing a nice combination of quickness, footwork, strength, and a few very solid moves. His drop-step is already an excellent weapon for him, and his turn-around jump-shot is quickly becoming an effective part of his arsenal. He establishes good, deep position inside, knows how to utilize shot-fakes, and has some nice spin-moves he executes with great quickness. His problem at the moment is that he

doesn

't have much of a left hand, and at times has a tendency to hold the ball excessively and force the issue barreling his way into brick walls, looking a little bit selfish in the process and turning the ball over more than he should. To his credit, he seems to be doing a better job of passing out of double teams than he did earlier in the season, even if his .39 assist to turnover ratio is still nothing to write home about (it was much worse earlier in the year). He's a player who lives off his instincts more than off any kind of great feel for the game, at times looking out of place in some of N.C. State's more complex half-court sets. Defensively,

Hickson

doesn

't have great size at 6-8 or 6-9, although his terrific wingspan compensates for that to a certain extent. His feet are quick enough to get out and hedge screens on the perimeter, but his general understanding of how to play team defense is not yet developed enough to consider him anything more than an average defender at best. He gives up too much space in the post and is not physical or aggressive enough putting his tools to good use, lacking some intensity and awareness on this end of the floor at this point in his career (which is not unusual for a freshman). He suffers from mental lapses, not boxing out his man, and losing his focus and such, but generally speaking is a very productive

rebounder

.

Hickson

publicly says that he is still undecided whether or not he'll be declaring for this year's draft, but persistent rumors we'

ve

been hearing all season indicate that he will almost certainly put his name in when it's all said and done. That would probably be a mistake if that's indeed the case, as he does not look anywhere near ready to see minutes on an NBA team (defensively, or operating as a true power forward should facing the basket), and would greatly benefit from expanding his game through another season in college. His talent will still likely be too great for most teams to pass up on in the first round--even if he'll have to spend time in the D-League polishing his all-around game--and therefore he'd likely get drafted somewhere in the bottom half of the first round barring bad workouts or off the court red flags that pop up during the draft process. Strengths:• Physical tools (minus height)• Wingspan• Athleticism• Frame• Coordination• Explosiveness• Second bounce• Ability to score w/back to basket• Strength for age• Hands• Finishing ability (through contact)• Tenacity• Hunger for scoring• Wants to dunk everything• Ability to get to FT line• Footwork/Spin moves• Rebounding•

Potential
Weaknesses:• Undersized• Offensive versatility• Will post game translate?• Ability to face the basket• Shooting range• Ball-handling skills• Left hand• Decision making• Ability/Willingness to pass out of post• Poor assist/turnover ratio• Fundamentals/Feel for game• Defensive awareness• Defensive intensity• Gets lost on rotations• Lacks focus at times• Played for underachieving team w/bad chemistry• 2-3 years away from contributing
from ESPN:
http://insider.espn.go.com/nbadraft/draft/tracker/player?playerId=19215&

draftyear

=2008
Draft Projection: Mid to late first roundNotes:

Hickson

has declared for the 2008 NBA Draft but hasn't hired an agent to preserve his college eligibility.Positives: Athletic big man with an NBA body. Explosive leaper. Physical. Good finisher around the basket. Does most of his damage inside the key. Can hit the

midrange

jumper. Can put the ball on the floor and create his own shot. Excellent

rebounder

. Good shot-blocker.Negatives: Still lacks some basketball IQ. Post moves are raw. Not especially quick.Summary: A rising young player who has had a stellar freshman season for NC State. Teams love his body and athleticism. One of this year's draft sleepers. A mid-first-round pick if he stays in the draft. A potential lottery pick in 2009
J.J.

Hickson

-

Rivalsnetwork