When I first saw this kid play in the Nike Summit last year, I thought he would be a sure lottery pick. Nicholas Batum was laid back for most of the 1st half but then turned it on later in the game to show his ability to dominate in his age group using his size, skill, fluidity, and athleticism. He looked like a well-rounded SF that had the ability to play multiple positions.
However, Batum's lack of a killer instinct is holding him back when playing against better competition. Batum has the tools to succeed but has a long way to go when it comes to playing consistently aggressive and focused throughout long stretches. His team, Le Mans, finished a dismal 2-12 and he has a tendency to disappear in long stretches. Although he is logging in 26 min. per game, he is putting up disappointing numbers (8.5 pts/3.5 reb/2.7 ast/1.5 stl/ .5 blk). He's the most talented player on his team, but he just doesn't the mental toughness to step up and take control yet.
Like Rudy Gay who played the same inconsistent but sometimes spectacular game in college, Batum could evolve into a similar player with the same success. Batum's versatility and skills are what Nelson covets in his players. There are a few other players in this draft with similar abilities and size (Donte Greene, Anthony Randolph, Joe Alexander, and Earl Clark). Batum as the potential to be among the best of them if he could play with less apprehension and have more confidence in his abilities. Batum will have to prove that he can compete against stronger competition in order to get consideration from Chris Mullin and the Golden State Warriors, but he certainly fits the Nellie-ball prototype player: multiple positions, defense by deflections, 3 point range, long, and athletic. He's a classic high risk, high reward type pick - not sure if Batum is worth the wait considering the other more proven players that should be available when the Warriors pick.
Statistics:
http://www.draftexpress.com/profile/Nicolas-Batum-537/stats/
from NBADraft.net
http://www.nbadraft.net/admincp/profiles/nicolasbatum.html
Birthday: 12/14/1988
NBA Postion: SG/SF
Class: N/A
Ht: 6-8
Wt: 210
Int Team: Le Mans
Hometown: Pont l'évêque, France

NBA Comparison: Rudy Gay
Strengths: Agile forward with size, an incredible wingspan, and great all around skills ... Has a natural feel for the game, and great physical attributes ... Competitive ... Team player, but also knows when to take over ... Clutch player. Shows the ability to raise his level of play in big games ... Makes his teammates better with his vision and ability to create ... Has a diverse offensive game with the ability to pull up off the dribble, hit from outside, and penetrate to the rim ... Shows a good stroke from outside, and excellent confidence to shoot through cold spells ... Has 3 point range ... Quick hands and feet, plus athleticism make him a potential lock down defender ... His foot speed and first step is very quick ... He has huge upside but needs to gain more experience ...
Weaknesses: Needs a lot of weight ... Right now he's at least 15-20 pounds below where he needs to be ... Getting stronger will allow him to go inside and finish as well as make him stronger defensively ... Must continue to develop and gain experience ... Must gain more defensive intensity ... Must prove himself on the senior level ... Notes: One of the top prospects in his age group in Europe ... Led France to win the 2006 U18 Championships in Greece ... Won MVP of the 2006 Albert Schweitzer Tournament, leading France to first place ... Still just a kid, his face looks like he's even younger than his age ...
Aran Smith - 5/2/2006

from DraftExpress:
Top Draft-Eligible Performers in the Euroleague Regular Season
February 4, 2008
Batum should be topping this chart, he should have taken this edition of the Euroleague by storm. Nobody, not a single player, comes close to combining his physical gifts and skill repertoire. Instead, we're hearing an already familiar tune: inconsistency, a certain lack of character and… perhaps some softness(?) mixed in with stretches of impressive play that only a freakish athlete like him is capable of deliver.
Unlike Gallinari, Batum hasn't been able to emerge as the team leader Le Mans needed in order to overcome a pretty forgettable regular season (2-12 record), especially considering the very poor situation they had at the point guard position and the excellent creative skills Nicolas enjoys. But he barely ever came up aggressive enough to command his team's offensive efforts for long periods. He wasn't fearless enough attacking the basket, and his jumper is still a work in progress. And particularly, he disappeared again from the court in crunch time with concerning regularity--which didn't help his team avoid some painfully close losses.
However, whenever he figured things out, he really impressed with his abilities. The guy can be simply unstoppable, able to create his own shot at will, to easily set up his teammates for easy baskets, to play lock down defense taking advantage of his freakish wingspan and athleticism, and come up with a slew of highlights in the form of blocks, dunks, long-range off-the-dribble shots, etc.
Batum needs to realize that he's the clear-cut best player on his team, and start playing accordingly. It would be a crime to waste such an impressive collage of basketball goods. Indeed, he should be a lock for the lottery, but even if we can easily project him there, there's no solid ground to protect him from slipping, given the concerns his game draws.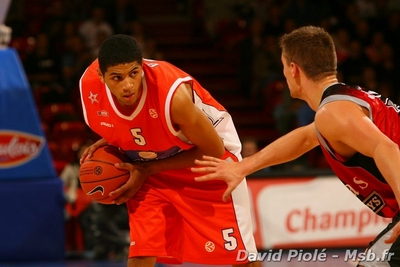 Roundup: Rollercoaster-Ride Batum On the Upside
December 19, 2007
Although his team Le Mans couldn't win any of the games played this past week,
Nicolas Batum
is back to showing his best face, running for a three-game streak where he scored over twenty points in each contest. Concerning only the last week, he started with 24 points, 4 rebounds, 4 assists and 2 blocks against Maccabi Tel Aviv in the Euroleague, following with 21 points, 2 assists, 5 steals and 2 blocks in the close road loss against Clermont in the domestic competition.
We had the chance to watch Batum against Maccabi, where his superb execution stood out. Indeed he stayed perfect from the field, a rare circumstance, especially if he shoots from long range. He connected on a couple of spot-up treys, but also netted an off-the-dribble bomb released over the head of a shorter opponent. All in all, he's looking more reliable and comfortable from the arc these last couple of weeks, but there's no assurance yet that this trend will continue.
Another interesting characteristic in his game against the Israeli powerhouse was his post game. Twice he took his match-up to the post, and twice he came up with excellent results. The first one, in the low post, finishing with a right-handed hook shot (not the most orthodox around, without much elevation, but still effective given the size differential he enjoys); the second one, in the mid post, using a pivot move to beat his opponent and deliver a layup after an excellent extension. There's no need to stress the great potential a long guy like him enjoys playing with his back to the basket, especially if he's evolving at the shooting guard position.
On the negative side, he didn't look very effective trying to beat his opponents off the dribble, although he was usually guarded by much smaller and quicker players (Maccabi fills the backcourt with combo-guards very often this season). The problem continued on the other end of the court, as he couldn't always stay in front of those small perimeter players he had to guard.
The rest was there, such as his excellent passing game (he threw a terrific assists across the lane, found his open teammates easily, and fed a bunch of cutters), ability to run the floor or his above-the-rim plays (a put-back dunk off an offensive rebound for example, and a couple of terrific blocks). He was also unusually active cutting towards the basket during the first half of the game, which provided him with a couple of easy baskets.
In the end, everything came effortless for Batum. He always transmits a feeling of ease while looking able of taking over almost at will. But that's the key word, will. We're going to see more of these performances this season. The question would be… how often?

from ESPN:
http://insider.espn.go.com/nbadraft/draft/tracker/player?playerId=19038&draftyear=2008
Draft Projection: Mid to late first round
Similarities: Mickael Pietrus
Notes: Plays for LeMans in France. Averaged 8.5 ppg and 3.5 rpg in 26 mpg in Euroleague play this year.
Positives: Silky-smooth swing man. Has a high basketball IQ and can play several positions on the floor. Long arms. Very athletic. Excellent defender with quick hands and feet. Beginning to show nice range on his jump shot. Has developed a pro body.
Negatives: Needs experience at the top level. Is known for disappearing from time to time on the court. Lacks consistent aggressiveness. Needs to work on his ballhandling skills.
Summary: His dominance at the 2007 Nike Hoop Summit had many believing he would be a lottery pick. However his play for LeMans this season has been uneven. He can be spectacular at times, then disappear at others. He's looks like a mid-first-rounder right now.
The French SensationScouting Video
Nike Summit 2007